After a bit of a dry spell, I return to you my fellow readers with one of my most disgusting posts ever. Look at this: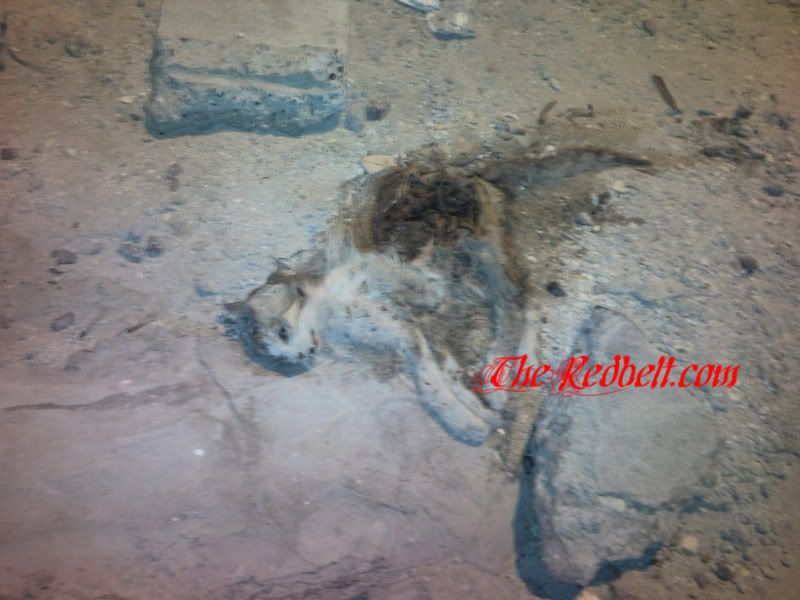 This is a dead cat. It is decayed and rotten. The spine is showing up.
This is next to my house. I live in block 624 if anyone wants to come see it.
Bahrain is dirty and filthy. It is drowning in its own shit. I've written about something similar before when a
dead dog
was left on a highway for weeks. A practice that is in effect still.
I have spoken to several people and they all complain about the amount of filth and smells. Muharraqis complained the least, and I do see regular garbage trucks going round. The central & northern constituencies seem to be mostly affected.
To everyone in charge I say this:
It is fucking TRASH. It is'nt a new problem. Man had to deal with freaking trash since the days of ADAM. Simply get a few quotes from waste disposal companies, approve the most feasible and move on. This would not take more than a week or two. Do you want me to do it? I would. Wallah I would.
If there is any, ANY, reason why no one is picking up trash, please; let me hear it. I would pay money to hear it. Should be rather entertaining, that.