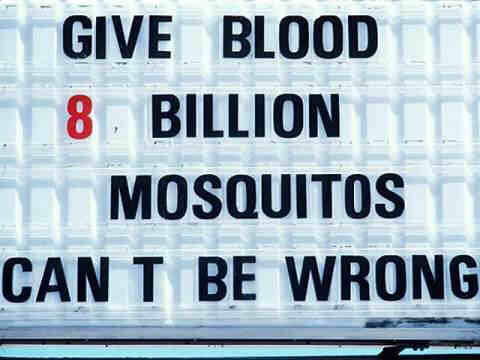 I keep getting emails that say some one needs blood urgently, please donate and call him on number so&so.
While they are a beautiful gesture of kindness, they are also a sign of sheer stupidity and it makes me mad.
Why? Consider today's flavour of the blood spam:
There is a 5 year old boy admitted in salmania ward 204.room 3.

He has cancer & need blood donation B+ .

Please forward this to all you know ..

Father name &mobile 39xxxxxx

Khalid A H..
What is wrong with this? let me tell you:
O+ blood is the most common blood type in Bahrain. If someone has B+ and needs blood, they can give him O+, do not worry. If they are in shortage, they SMS their donor data base (I am one of them) so if they need blood I would know before you do.
Second of all, You do not know when this happened! It could be last year for all you know.
And as far as the phone number, it could be a prank and now this poor fellow cannot use his mobile phone because of all the "charity" phone calls he is getting.
I know Bahraini's are kind but, come on!
There is a table on the Ministry of Health's website showing
blood type compatibilities
. It also has a field where donors enter in their CPR number to show thier record. This of course does not work (nor is secure should it work).
I do have to commend the guys at Salmaniya hospital's Blood Bank though, they are providing an enormous benefit that no one thinks of. It is very easy to donate, nay it is beneficial too. Look here at what
Wikipedia
says.
So moral of post is:
1- Please give a call to Salmaniya's blood bank, it takes half an hour or so to donate. (How about organizing a bloggers donation day?? Anyone interested)
and 2- of course, stop forwarding junk without thinking. I hate it.